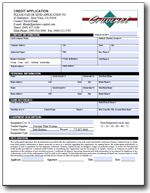 Click on the Application Image to download (open) the Application PDF file
Get the latest version of Adobe Acrobat Reader by clicking on the "Get Adobe Reader" image below.

NOTE: Some browsers will have a message bar that states: "This PDF document contains forms. The filling of forms fiesds is not supported"
You will see a button that states: "Open with a Different Viewer," click the button and sellect Open with Acobe Acrobat (default).
The Application will open in Acrobat and you should be able to complete it on-line.